Trombone
Fundamentals
a 12-video series with Prentiss Hobbs
Fundamentals of Trombone Playing
available as three separate packages ($75.00 each) or as an entire series ($199.00 – Best Value!)
Package 1: Into, Embouchure, Breathing, Intonation, and Hand placement-slide technique
Package 2: Warm up, Single tonguing, Multiple tonguing, Endurance
Package 3: Flexibility, Range, Warm down, Sight Reading, Disclaimer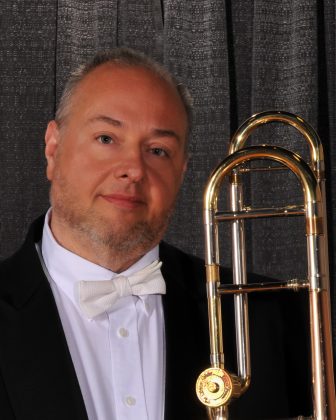 Prentiss Hobbs is the Principal Trombonist in the Huntsville Symphony Orchestra and Symphony Orchestra Augusta. He is also Second Trombonist in the Chattanooga Symphony Orchestra. 
Hobbs has also held positions with the Baton Rouge Symphony, the Ohio Light Opera, the Tuscaloosa Symphony, and the Knoxville Symphony, as well as one-year positions in the Alabama Symphony and the Nashville Symphony. He is also a substitute musician with the Louisville Symphony and the Grant Park Summer Symphony in Chicago.
Prentiss is also in demand as a recording session artist and has played bass and tenor trombone on over a thousand recordings. Some of his highlights include recording with 
Garth Brooks, Faith Hill, Ben Folds, Wynona Judd, Alan Jackson, The Nashville Symphony
, and many others.
Hobbs has also played on many movie soundtracks, including the 
Last Witch Hunter
 and 
Hoodwinked
, and video games such as 
Halo, Madden Football
 and 
Star Wars: (Jedi: Fallen Order, Squadrons, Knights of the Fallen Empire).
He is listed on the AMG website with close to fifty credits to his name.

Prentiss Hobbs' first teacher was his father, David Hobbs, who at the beginnings of his musical path started him down the road to success with his vast knowledge of music and his wonderful ability to teach. He later continued his studies with Larry Campbell at L.S.U. and Dan Drill at the University of Alabama. Both of these fine teachers helped him to become the musician he is today.